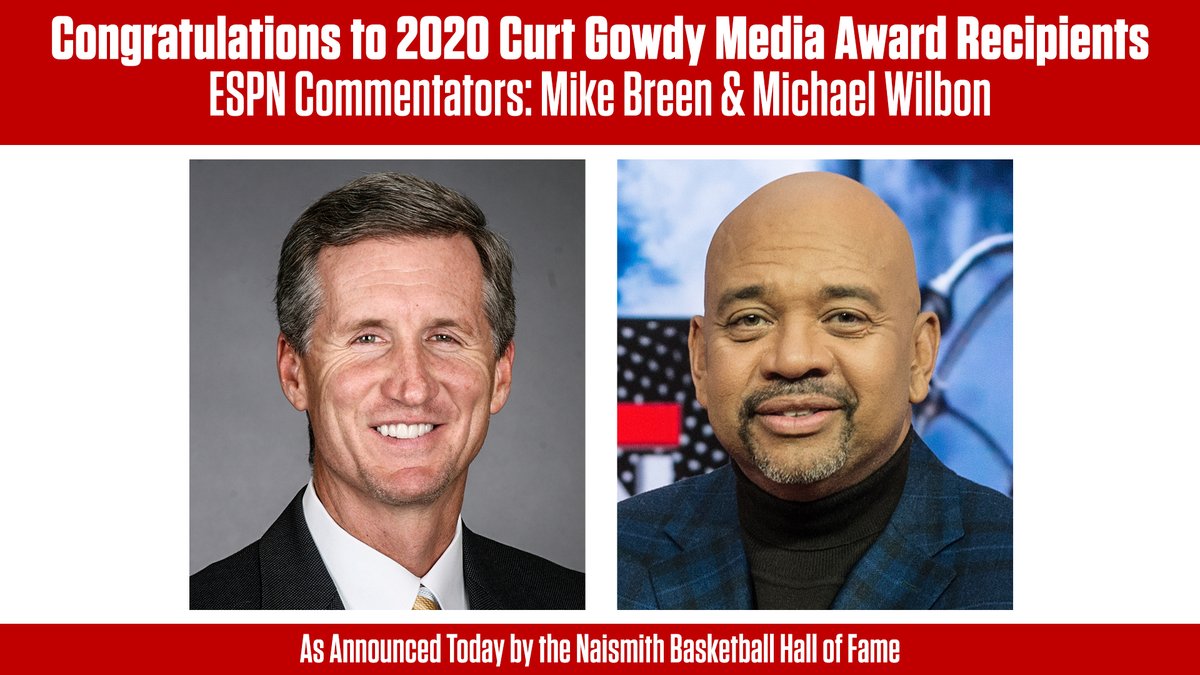 CHICAGO, IL (14 de febrero de 2020) – El Naismith Memorial Basketball Hall of Fame anunció hoy, en el NBA All-Star Weekend, que el escritor y comentarista deportivo condecorado Michael Wilbon y El icónico comentarista play-by-play de la NBA Mike Breen recibirán el Premio Curt Gowdy Media 2020
El Curt Gowdy Media Award recibe su nombre en honor al fallecido Curt Gowdy, un comentarista deportibo legendario y ex miembro de la Junta del Salón de la Fama y Presidente. Este prestigioso premio es presentado anualmente a miembros de los medios impresos y electrónicos cuyos esfuerzos han hecho una contribución significativa al juego del baloncesto.
Desde 1980, Michael Wilbon ha cubierto deportes universitarios y profesionales a través de una variedad de plataformas. Después de dos pasantías de verano, Wilbon se unió al Washington Post como reportero deportivo, y fue columnista de 1990 a 2010. Durante ese tiempo, coeditó dos libros con Charles Barkley, "I May Be Wrong But I Doubt It" y "Who's Afraid of a Large Black Man", los cuales figura en la lista de best sellers del New York Times.
Como columnista del Washington Post, Wilbon ha cubierto todas las finales de la NBA desde 1987 y prácticamente cada Final Four desde 1982. También ha sido coanfitrión de las populares noticieros deportivos de lunes a viernes. y el show Pardon The Interruption con Tony Kornheiser desde 2001. PTI se ha ganado Sports Emmy Awards en 2009, 2016 y 2017 en la categoría Daily Studio. Otros premios de Wilbon incluyen el de mejor columnista deportivo por la Sociedad de Periodistas Profesionales en 2001, y el Lifetime Achievement Award de la Asociación Nacional de Periodistas Negros en 2009.
En 2010, Wilbon se unió a ESPN y se desempeñó como presentador y colaborador de noticias de la NBA. El apareció frecuentemente en SportsCenter y semanalmente en ESPN Radio 1000 en Chicago, además de su contribución a The Undefeated de ESPN.
En 2011, Wilbon fue incluido en el D.C. Sports Hall of Fame por su cobertura y comentarios deportivos, fue incluido en el Chicagoland Sports Hall of Fame en 2015 y en el Northwestern University Athletic Hall of Fame  en 2017. En 2017, él también recibió, junto con su coanfitrión de PTI, el Fourth Estate Award como periodista que ha realizado importantes contribuciones al campo del National Press Club.
Mike Breen ha transmitido juegos para la NBA durante 28 temporadas, comenzando con los New York Knicks en WFAN en 1992. Conocido como la voz signature de la NBA, Breen es el locutor principal  para los Knicks en la red MSG con el miembro del Salón de la Fama Walt Frazier. Él también es principal en ESPN y ABC, cubriendo las Finales de la NBA y NBA Saturday Primetime en ABC.
En 2003, se unió al equipo de la NBA de ESPN y ha cubierto 12 temporadas de juego. Poco después de graduarse de la Universidad de Fordham, Breen comenzó en la radio como presentador de noticias y comentarista deportivo para WEOK / WDPH Radio en Poughkeepsie, NY. Pronto se mudó a la televisión, donde trabajó en Colony Sports Network cubriendo los juegos del baloncesto de Marist College, mientras trabajaba simultáneamente como analista de radio para el baloncesto Seton Hall. En 1998, Breen fue nombrado «Locutor del Año» por los National Sportscasters y Sportswriters Asociación en Nueva York.
Breen ha trabajado en una variedad de roles y ha cubierto la WNBA, tanto masculino como femenino en los Juegos Olímpicos de 1996, 2000, 2004 y 2008. Breen es dos veces ganador del Premio Emmy de Nueva York por "On-Camera Talent: Sports Play-by-Play" en 2009 y 2014.
Michael Wilbon y Mike Breen serán reconocidos por sus contribuciones a los medios de baloncesto durante el fin de semana del Salón de la Fama del Baloncesto Naismith Memorial del 28 al 30 de agosto, 2020. Para obtener más detalles, incluida la información sobre boletos, visite www.hoophall.com/Enshrinement.
Anteriores Ganadores del Curt Gowdy Media Award:
Year – Print/Electronic
1990 – Dick Herbert/Curt Gowdy
1991 – Dave Dorr/Marty Glickman
1992 – Sam Goldaper/Chick Hearn
1993 – Leonard Lewin/Johnny Most
1994 – Leonard Koppett/Cawood Ledford
1995 – Bob Hammel/Dick Enberg
1996 – Bob Hentzen/Billy Packer
1997 – Bob Ryan/Marv Albert
1998 – Larry Donald & Dick Weiss/Dick Vitale
1999 – Smith Barrier/Bob Costas
2000 – Dave Kindred/Hubie Brown
2001 – Curry Kirkpatrick/Dick Stockton
2002 – Jim O'Connell/Jim Nantz
2003 – Sid Hartman/Hot Rod Hundley
2004 – Phil Jasner/Max Falkenstien
2005 – Jack McCallum/Bill Campbell
2006 – Mark Heisler/Bill Raftery
2007 – Malcolm Moran/Al McCoy
2008 – David DuPree/Bob Wolff
2009 – Peter Vecsey/Doug Collins
2010 – Jackie MacMullan/Joe Tait
2011 – Alexander Wolff/Jim Durham
2012 – Sam Smith/Bill Schonely
2013 – John Feinstein/Eddie Doucette
2014 – Joe Gilmartin/John Andariese
2015 – Rich Clarkson/Woody Durham
2016 – David Aldridge/Jay Bilas
2017 – Harvey Araton/Craig Sager
2018 – Andy Bernstein/Doris Burke
2019 – Marc Stein/Ralph Lawler
https://www.facebook.com/tododeporteonlineoficial/videos/3000964826601389/